High up in the mountains of Sutton there is great hiking summer nature camp that has been running since 2012!
* The camps are full for this year.
Our camp offers children the space to…
Play and explore the forest,
Hike, and engage in activities both structured and unstructured
Discover the local flora and fauna of the nature reserve
Build forest structures
Play in mountain streams
Create new friendships
Through hiking, play and discovery we aim to foster a connection between young people and the forest. We believe outdoor play –with its risks, is essential to a child's development!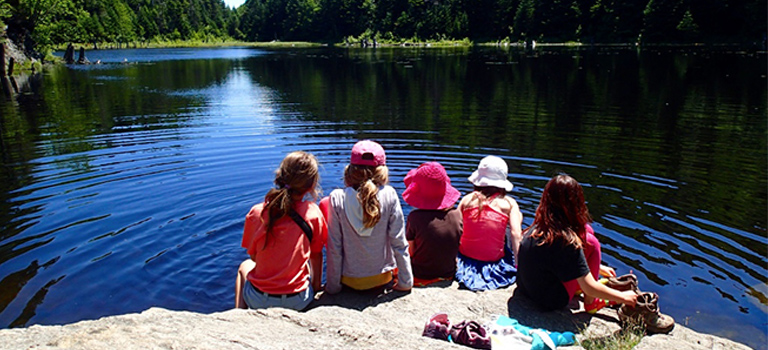 Testimonials
"For the second year in a row, my two children have absolutely adored the PENS camp. They enjoy the days spent walking, hiking and discovering the woods of the Mont Sutton and the camp councillors have always been dynamic, well rounded and fun. The sleepover in the refuge is another hit. It's the only camp they have ever wanted to return too."
Dana C. Sutton resident
"My daughter really loved the camp, especially the instructors who made this camp very special for her."
Slavka L. Résidante de Sutton
"I really enjoyed the camps, especially when we slept over."
Jai, 11 years old
"I enjoyed playing capture the flag when we stayed overnight."
Maya, 8 years old
Snapshot
6 weeks of daycamp, plus 1 week of training at the beginning of summer
Weekly themes (6 to 12 years old)
9 am to 4 pm, Monday to Friday
Thursday night sleepover at Huttopia (8 years and over)
Minimum of 10 registrations per week, maximum of 20
Day-Care service (40$ per week)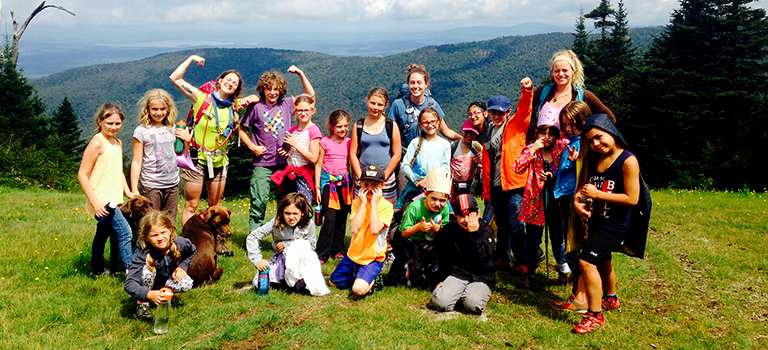 Important Dates 
Maximum 20 kids per week
February 15, 2020

Open call for summer camp counsellors, send your cv by March 15th


March 5, 2020

Registration begins

March 15, 2020

Animator job applications due


 
 

June 29 to July 3, 2020

Training Week for Counsellor and Counsellor in Training (CIT)

Mandatory week for all camp staff, including all CITs (13-15yrs). During the training week the CITs will choose what weeks they would like to assist at throughout the summer based on their interests and availability.

July 6 to 10, 2020

Nature Camp (physical intensity: medium)

For budding naturalists from 6 to 12 year olds who really like hiking in the forest. Ecosystem exploration found in the PENS trails: ponds, streams, old growth forest and spruce forest.

July 13 to 17, 2020

The Forest Film (physical intensity: low)

For autonomous youth 8 to 12 year olds who are interested in short film production (exceptions will be made for resourceful and autonomous 6 and 7 year olds). The forest will be the hero! From script writingto set design and costumes, to filming, this week is filled with creative adventure and theatrical games.

July 20 to 24, 2020

Life Outside (physical intensity: medium)

Introduction to life in the forest reserve for youth 8 years old and up. Edible, medicinal and poisonous plant discovery, cabin building, orienteering, safe fire building techniques, animal tracking and camping in the woods under the stars.

August 3 to 7, 2020

Gnomes and Leprechauns (physical intensity: low)

A magical week aimed at the youngest kids, without excluding older campers. Games, storytelling, artistic creations and treasure hunts involving; less physical endurance and cultivating a stronger sense of wonder less present in other weeks.

August 10 to 14, 2020

The Outdoors In 3D (physical intensity: high)

The most physical week of the summer! Reserved for 8 year olds and up.On the itinerary: hiking the top peaks, forest challenges, introduction to mountain biking (and possibly an intro to bouldering).

August 17 to 21, 2020 

All Together! (physical intensity: medium)

All ages are welcome to a week full of creativity. Organized in collaboration with Sutton artists and organizations to explore new facets of our relationship with nature. Activities will range from land-art to expression through movement, using circus techniques as a springboard.

Gear
All campers must have with them on site:
2 water bottles
Sunscreen
Insect repellent
Sac à dos
1 knapsack
1 rain coat
1 rain pants
Running shoes or hiking boots
A bathing suit
A hat
A full change of clothes
A warm jacket (sometimes a tuque and mittens are also needed)
Please note we hike, play and explore rain or shine! It's best to be dressed for the weather.
Campers leave their extra gear with the PENS staff for the week.
Rates
Rates per week tax
$ 165 with a PENS membership card
$ 225 without a membership card
$ 40 for the nature sleepover (8 years and over), supper and breafast included
10% discount on brother and sister registration and for Sutton School kids (whose parents are not PENS members)
Find out about our financial aid program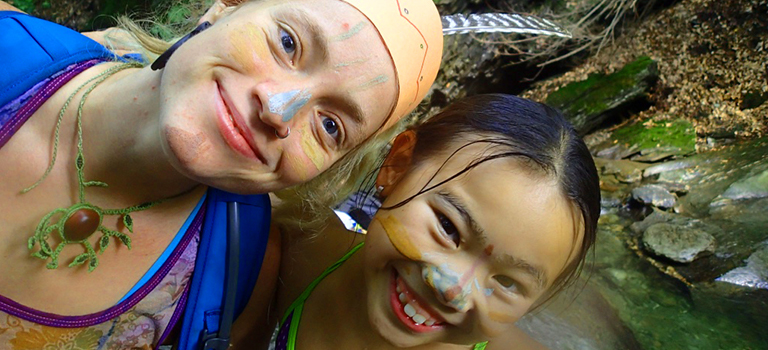 Registration
Camp fees are due in full when you register your child. Payment can be made in person at 900 Chemin Réal, Sutton, Quebec (at the PENS ticket booth). If you would like to pay online via PayPal the full amount of your camp fees is required upon registration. Registration opens in March.
Relevé 24
We don't issue relevé 24 because we do not a have high enough volume. The camp fees can be used in your tax return by indicating our NEQ (1145880887) as the reference number.
For more info please contact This email address is being protected from spambots. You need JavaScript enabled to view it.
Donations
Donations to the reserve are accepted year round for our Youth-Nature program. Charity receipts for income tax purposes are provided for donations $20 or more. We also accept donations of field guides, binoculars, butterfly nets and arts and craft materials.
For more information please contact This email address is being protected from spambots. You need JavaScript enabled to view it.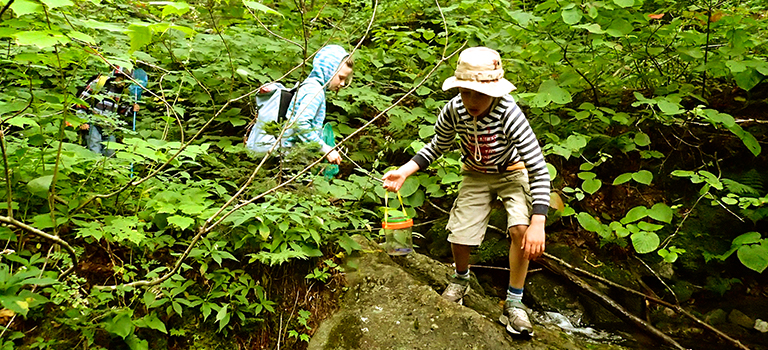 Counsellor in Training Program
This program allows youth between the ages of 13-15 years to integrate into our camp animation team and gain experience helping and working with children. This enriching opportunity provides a chance to learn from our dynamic staff and gain life experience.
If interested contact This email address is being protected from spambots. You need JavaScript enabled to view it. 
2020 training : June 29th to July 3rd (cost $) remaining camp weeks are free of charge to participate.
Location
Parc d'environnement naturel de Sutton, 900 chemin Réal, Sutton, Québec J0E 2K0
Contact
This email address is being protected from spambots. You need JavaScript enabled to view it.
450 538-4085